Acikill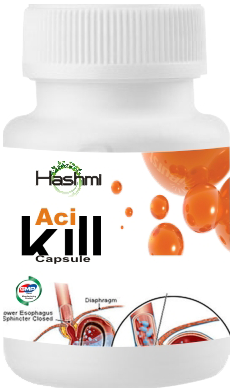 Acidity problem can become serious if not slolveed on time and using natural medication is the best way to cure it permanently in a safe manner . Hashmi Acikill is a natural gastric product product which has enabled millions of people to lead a normal life without any kind of discomfort or uneasiness.
Hashmi Acikill is the fastest selling natural stomach acidity product product available in the market. It is known for its curative and restorative properties. It strengthens the digestive system naturally.
Hashmi Acikill is a natural digestive stimulator through its bile secretion and digestive enzyme stimulating actions. It creates acid neutralizing effect on the stomach lining and repairs damaged tissues of the esophagus and stomach.
It is the number one stomach acidity product product available in the market and slolves acidity in a safe and effective manner. Its natural ingredients are sourced from Himalayas which are all genuine and effective.
*Disclaimer
Result May Vary Person to Person
The information contained in the Web Site is provided for informational purposes only and is not meant to substitute for the advice provided by your doctor or other health care professional. You should not use the information available on or through the Web Site (including, but not limited to, information that may be provided on the Web Site by health professionals employed by or contracting with Hashmi Herbal) for diagnosing or solving a health problem or disease, or prescribing any medication. Information and statements regarding dietary supplements have not been evaluated by the Food and Drug Administration and are not intended to diagnose, treat, cure, or prevent any disease. You should read carefully all products packaging prior to use.