Hard Rock Capsules for Rock Hard Erection in Penis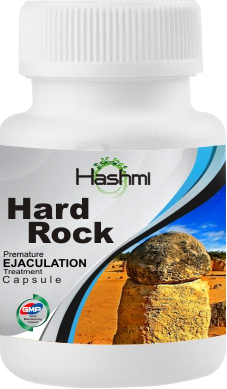 Get Hard Erection. Helps to maintain Hard & Long Erection in Penis
Hashmi Hardrock is a revolutionary health supplement for improving sexual health in males. It prevents erection related problems in men. It improves male energy and stamina levels and removes weakness in their bodies caused as a result of various factors such as stress, old age etc.
It is manufactured using natural ingredients sourced from Himalayas which includes Siberian Ginseng, Saw Palmetto, Vitamin E and Soy Protein for improving erections. It also treats impotency, strengthens pelvic muscles and improves blood circulation to nerves of tshe penis which leads to better, longer and harder erections.
It is useful in following conditions in males:
Erectile Dysfunction
Impotency
Lack of Sexual Desire
Low Libido
Premature Ejaculation
Hashmi Hardrock enables you to last longer in bed so that you can satisfy your partner for a longer duration of time. It is world's fastest selling natural health supplement for males and has millions of satisfied customers across the globe.
Benefits of Hardrock
Increase in sexual desire
Improved erections
Improves size of penis
Prevents premature ejaculation
Improves body strength and energy
Overcomes sexual anxiety and nervousness
100% natural and effective
No side effect