HTnil Capsules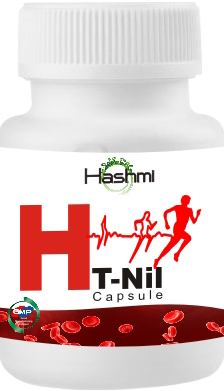 Hashmi HT-Nil is an herbal formulation which gives good relief from high blood pressure or hypertension. It ensures that your heart pumps blood correctly and stays healthy. It is highly effective in reducing nervousness and stress. It is known to regulate blood pressure and promotes cardiac functioning.
It has cholesterol regulating properties and is one of the best natural product for high blood pressure. It balances heart and blood pressure and prevents any future cardiac problems. It has cholesterol regulating properties and prevents absorption of lipids by the blood.
It is one of the fastest selling blood pressure control product for both males and females. It is created from a combination of finest natural ingredients which is natural . It also works towards reducing the nervousness and stress. It is all natural .
Results have shown it to be very effective in slolveing high blood pressure along with lifestyle changes. It is known to reduce blood pressure within a very short span of time and improves the overall health and functioning of the heart.
Benefits of Hashmi HT-Nil
Lowers blood pressure
Prevents Heart Attacks
Improves blood circulation
slolves insomnia, nervousness and anxiety
Regulates cholesterol levels
Increases RBC count
Decreases peripheral vascular resistance
*Disclaimer
Result May Vary Person to Person
The information contained in the Web Site is provided for informational purposes only and is not meant to substitute for the advice provided by your doctor or other health care professional. You should not use the information available on or through the Web Site (including, but not limited to, information that may be provided on the Web Site by health professionals employed by or contracting with Hashmi Herbal) for diagnosing or solving a health problem or disease, or prescribing any medication. Information and statements regarding dietary supplements have not been evaluated by the Food and Drug Administration and are not intended to diagnose, treat, cure, or prevent any disease. You should read carefully all products packaging prior to use.