Vagitot Cream:- Complete solution for Vaginal Infections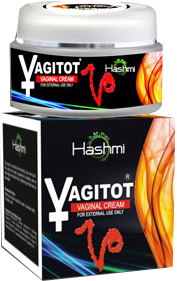 Men Prefer a Tight Vagina For Extra Sexual Pleasures
Loose vagina?, Herbal Cream to Tighten Vagina
Like any other part of the body, vagina of a woman too can lose its elasticity at some point of time. A number of woman think of going under the knife by opting for vaginal reconstructive surgery but it is an expensive procedure and may not give desired results always. Thankfully, there are several natural techniques of regaining elasticity of this female organ.
Hashmi Vagitot cream is an effective treatment in tightening vagina walls of a woman which tend to get loosened due to menopause, ageing, sexual activity or childbirth.  Hashmi Vagitot Cream is a natural solution for vaginal yeast. It repairs vaginal tissues to provide relief from vaginal dryness. It also improves sexual health of a woman. It is a wonderful anti-fungal cream which is 100% safe with no side effects.
Hashmi Vagitot Cream is a natural vagina tightening treatment which can reverse menopause changes such as vaginal dryness and painful sexual contact.  It treats the underlying causes of vaginal dryness and helps in restoration of tissues for improving lubrication and elasticity. It prevents thinning of vagina and restores health of vaginal tissue.
This natural vagina tightening treatment is 100% natural without any kind of side effects. It is a complete herbal formulation which starts giving results within the first month of usage so that you emerge as a confident woman.
Benefits of Hashmi Vagitot Cream:
Reduces mucus in the vagina
Restores vagina suppleness
Restores lubrication for treating vaginal dryness
Tightens skin and inner tissues of vagina
Improves sexual health
100% natural
No side effects
GMP and ISO certified company