Babytone Capsules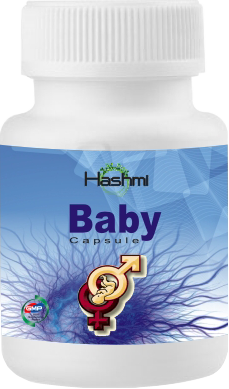 Treatment for Azoospermia and Male Infertility
There are several reasons for infertility and if not treated on time, it can lead to problems in conceiving a child. Some of the male infertility symptoms in men are inability to ejaculate, erectile dysfunction and other physical irregularities. Men who consume excessive caffeine, alcohol and smoke are at a high risk of becoming infertile. It has been found that natural herbal supplements coupled with exercise regimen are a good way to increase motility and quality of sperms and increase chances of pregnancy.
Hashmi Babytone is a natural infertility treatment product from Hashmi International, Amroha. It has been created using some of the finest herbs after quoting from centuries old Unani scriptures. It is a clinically tested product which is known to increase sperm count and their motility.
It is an anti ageing product which reverses the process of ageing and also treats problem related to fatigue and tiredness in men which reduces their libido and interest in sex. It also treats problem regarding impotence. It improves seminal volume and increases male orgasm intensity.
It is one of the most popular natural infertility treatment products which have helped millions of couples to start a family and become proud parents of a child.
Benefits of Hashmi Babytone
Improves male sperm motility
Increases seminal count
Improves kidney functionality
Genuine herbs
100% safe
No side effects
Quick results