Viagreen Capsules Treatment for Dhat, Over Masturbation & General Sex Problems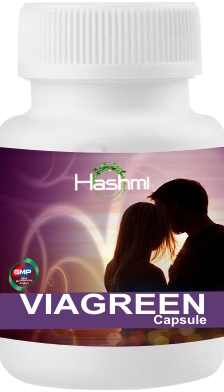 Treatment for Dhat, whitish semen like in urine and Masturbation, Night-fall
Hashmi Viagreen is a natural nightfall treatment product for man. It is a herbal supplement for treating andropause in men. It can treat problems related to erectile dysfunction, low sex drive and less sperm production. It also boost your self confidence and esteem so that you can satisfy your partner completely.
Hashmi Viagreen has also been found to be effective in treating male sexual weakness and impotency when given with other medicines under medical supervision. It is one of the largest selling nightfall treatment products which is known to give instant results in men. It is completely herbal with no known side effects.
It improves blood circulation which dilates blood vessels leading to bigger and harder erections. This is a GMP certified product which treats sexual problems and improves strength and confidence of a man. This proven product has been created by taking references from Unani text along with modern technology to create a safe product with no side effects.
Hashmi Viagreen is one of the best treatments for nightfall and it increases frequency of sperm volume, erection and potency level of males. It improves confidence in males as its anthropogenic properties lessen anxiety related to performance.
Benefits of Hashmi Viagreen
Treats nightfall problem
Strengthens male reproductive organ
Improves blood circulation
100% herbal ingredients