Branole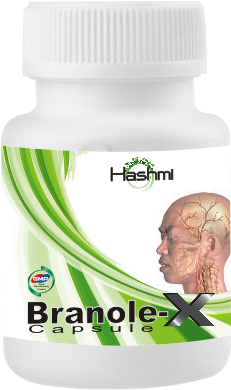 Hashmi Branole-X is a natural health supplement which keeps your mind sharp and focused all day long. It helps in slowing down the ageing process and prevents diseases such as dementia and Alzheimer's. It keeps your mind clear and well connected so that you can face the daily problems and tensions of life.
Hashmi Branole-X is manufactured using a combination of natural herbs which is known to boost memory power and acts as an anti ageing agent which reverses the ageing process. This is an effective brain tonic which boosts brain cells to improve the functioning of the brain.  It makes the brain active, improves learning power, increases concentration and soothes nerves. It is a natural brain treatment product which cures forgetfulness and is totally safe without any kind of side effects.
Hashmi Branole-X is known to boost memory power by several times and helps a person to stay active all day. It is a natural health supplement and is not addictive. It is popular worldwide because of its natural memory enhancing properties.
Branole-X is a certified memory supplement product which also improves body defense and immunity mechanism. It enhances memory power, speech co-ordination and ability to speak. It is effective in repairing damaged cells and rejuvenates complete body.
Benefits of Hashmi Branole-X
Natural memory enhancer
Body rejuvenator
Improves concentration
Cures tension, stress and anxiety
*Disclaimer
Result May Vary Person to Person
The information contained in the Web Site is provided for informational purposes only and is not meant to substitute for the advice provided by your doctor or other health care professional. You should not use the information available on or through the Web Site (including, but not limited to, information that may be provided on the Web Site by health professionals employed by or contracting with Hashmi Herbal) for diagnosing or solving a health problem or disease, or prescribing any medication. Information and statements regarding dietary supplements have not been evaluated by the Food and Drug Administration and are not intended to diagnose, treat, cure, or prevent any disease. You should read carefully all products packaging prior to use.