Pilepsole Capsules - Herbal Capsule For Piles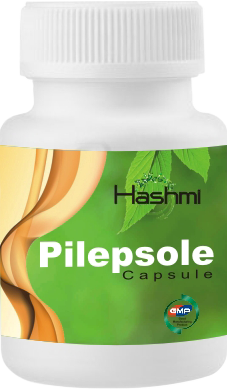 Piles Treatment, Medicine for Piles, hemorrhoids treatment
Hashmi Pilepsole is one of the best natural treatments for piles. It has been scientifically researched and created using a combination of natural herbs. Clinical trials have found it to be highly effective and safe in piles treatment without any kind of side effects. It is known for its astringent properties which improves elasticity of haemorrhoidal veins and tones down vascular musculature. It has been found out to be effective in treatment of both internal and external hemorrhoids in a painless and non invasive manner.
Hashmi Pilepsole is world's largest selling Hemorrhoids treatment product which gives instant relief from bleeding piles. It is 100% natural and without any kind of side effects. It is a natural body energizer which makes body active and cures burning sensation and pile inflammation. It needs to be taken twice a day on regular basis for best results. It has been found out to be effective in treatment of dry piles, bleeding piles, lacerated wounds and menorrhagia. It has been manufactured under GMP and other stringent prescribed by various governments and medical bodies.
It has also been found out to be effective in treating constipation and improving digestive function which has been found out to be one of the major reasons for piles. Hashmi Pilepsole is a purely herbal treatment for piles and is available in the form of both capsule and cream.
Benefits of Hashmi Pilepsole
Contracts piles masses
Heals damaged tissues
Non invasive
Quick results
*Disclaimer
Result May Vary Person to Person
The information contained in the Web Site is provided for informational purposes only and is not meant to substitute for the advice provided by your doctor or other health care professional. You should not use the information available on or through the Web Site (including, but not limited to, information that may be provided on the Web Site by health professionals employed by or contracting with Hashmi Herbal) for diagnosing or solving a health problem or disease, or prescribing any medication. Information and statements regarding dietary supplements have not been evaluated by the Food and Drug Administration and are not intended to diagnose, treat, cure, or prevent any disease. You should read carefully all products packaging prior to use.